Welcome
New to Massage & Bodywork?
Learn What to Expect at Your Session

If you have never received a professional massage you may feel a little uneasy about making your first appointment. This is natural. After all it's not every day that you walk into a private room, remove your clothes and allow a another human being to soothe away your aches and pain! The good news is that any unease you may have is quickly diminished once you meet and speak with the therapist and begin the treatment.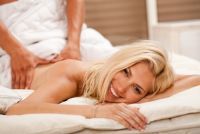 After the massage session you will feel both relaxed and energized. You will look and feel better. Massage affects all the systems of the body. Benefits include increased local circulation of blood and lymph, improved muscle tone and elasticity and a calming of the central nervous system. Massage helps the body's metabolism return to normal and helps increase nutrition to each cell.
However, You may be wondering...
How do I Prepare for a Massage?
There is nothing special you need to do to prepare for massage! If you are a new client or have not visited Intuitive Bodywork recently, please complete our
Online Client Intake Form(s)
prior to your appointment.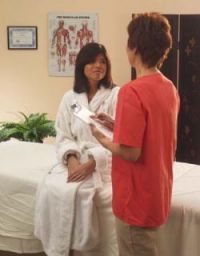 Completing the Online Intake Form(s) at home will save some time on the appointment day, allowing more time for hands-on work.
When you arrive at Intuitive Bodywork, we will have a brief interview time to discuss your goals for the massage session, answer any questions you may have and share any thoughts or concerns pertaining to your massage session.
Will I Need to Undress?
You need only undress to your comfort level. Generally, the best way to experience a full massage is with nothing on, allowing for full, flowing massage techniques and access to all muscle groups. However, Your personal comfort and modesty, however, are the most important considerations.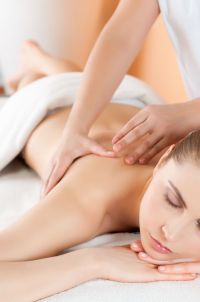 Will I Be Covered?
Generally you are fully draped with a sheet ot large towel and only the body part being worked on is exposed at any one time. Optionally, you may choose to wear underwear or a two piece swimsuit with no draping. You are always in control of all aspects of the massage session at anytime and you may change your mind at anytime.
Occasionally, draping choices are influenced by specific procedures or health conditions (i.e. the client selects lymphatic breast massage or may benefit from work near a sensitive area). If there are any special considerations, the therapist will always explain the procedure and any special draping needs prior to the massage session. You always have the choice to allow or deny the procedure.

What Happens During the Massage Session?

After discussing your needs and establishing goals for the session, The therapist will explain where to place your clothes and how to position yourself on the massage table. The therapist will then leave the room so you may privately undress and place yourself on the table. After knocking to make sure you are ready, the therapist will enter the room and begin the massage.

Relaxing music or nature sounds will play in the background during the massage. The therapist will check with you occasionally to ensure that you are comfortable, that the amount of pressure is appropriate and that your needs are being met. Some clients prefer to enter a state of deep quiet and relaxation during the massage. Others may prefer to talk. The choice is yours.

You (the client) are always in charge of the massage session! If anything at all is uncomfortable (room temperature, pressure, draping) just let your therapist know and immediate adjustments will be made to meet your needs. Even if you want to end the massage, all you have to do is say so!

Does Massage Therapy Hurt?
No! Relaxation massage should never be painful. It is a pleasant experience. Be sure to tell me if anything is uncomfortable and I will alter the technique. Neuromuscular Therapy (NMT) techniques may elicit a mild to medium discomfort, intense sensation or "good hurt" on tight or injured tissues but there should be no pain.
Intuitive Bodywork